Harmony Ecosystem Fund
Jump to navigation
Jump to search
Harmony announced their 300M+ ONE ecosystem fund back in September of 2021 with a Notion Site explaining the program structure, areas of focus and how to participate.  Their CEO, Stephen Tse, discusses his vision for the program a bit in this thread.
Overview
Launch Date: Sept 2021
Total Funding Allocated: 300M ONE
Total Funds Distributed to Date (if available): As of writing close to $37M of the $300M+ fund has been approved or funded.
What Asset(s) are the funds paid out with (native token versus $USD, for example): ONE
Where funding is tracked: They have an airtable database where everything is tracked
Area(s) of Focus
At its core the ecosystem program is focused on driving investment across 7 key areas with specific amounts and allocation quantities assigned to each.  The program has high weighted funding for the first year of ~180M $ONE and then looks to sustain with ~200M ONE from treasury reserves for years 2-4 for a total of ~380M ONE allocated to be distributed over a four year time span.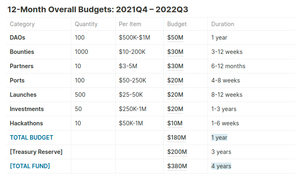 Governance
In terms of governance the foundation has established some guidelines based on the chosen track.  Per the response I received from my post on their forum this is how governance works today for the program:
"Provided the proposal meets the criteria, the proposal is then reviewed by a grants committee. The committee is made up of Harmony core team members and community contributors. The committee also relies on feedback from the broader community who can participate from the Harmony public forum, where proposals are posted." This process will be further decentralized shortly via the Launch DAO, moving the governance over to the community."
Funding from the ecosystem program is paid out via $ONE with funds being sent from the Harmony Foundation's wallet to the grantee's multisig wallet. Having a 5 out of 9 multisig wallet is a requirement for funds to be distributed and all transaction details are posted on the proposal post publicly. You can check the recipients, amounts and stage of the process the funding proposal is in at an Airtable site that Harmony shares out. I found it an interesting document to explore, some brief observations:
How to Apply
You can use the link below to see the programs and apply:
https://open.harmony.one/300m-on-bounties-grants-daos/apply-for-grants-or-dao
Announcements, forum posts, news articles or other media that may be relevant
https://open.harmony.one/300m-on-bounties-grants-daos
https://sovereignsignal.substack.com/p/harmony-
https://airtable.com/shrhAF8AtIK9nAdr7/tbl00qjhTAngPoRvi
https://talk.harmony.one/c/ecosystem-resources/32
https://open.harmony.one/100-daos-cross-chain-economy