Single Finance
Jump to navigation
Jump to search
Single Finance is a super intuitive platform for all your DeFi investments, minimizing correlations with the general market
Protocol Advantages
Single-Click Strategies
We work hard to share with you various useful Single-Click Strategies, cherry picking the very strategies that we as farmers find useful in all market situations. The first Single-Click strategy we employ is the Pseudo Market-Neutral Strategy to minimize the impact of price effect and leverage the fee and  yield generated concurrently, followed by Leveraged Short/Long Strategy which provides the opportunity for farmers to gain extra profit from price effect based on token price prediction.
Automated Bots
Our platform is equipped with automated bots, empowering individual users with tools previously available only to institutional farmers. The first automated bot for your deployment is our Marked-to-USD Capital Protection Bot.
LP Time Machine
Liquidity Pool Time Machine collects all historical data from full index nodes of all EVM-compatible chains. It provides real return performance data, including trading fees, DEX yields (yield farming), and price effect to help users pick their winning pairs. We are also incorporating many useful metrics to help you quickly filter liquidity pairs according to your investment appetite.
Multi-Chain Support
Blockchains free us from chains of authorities, and DeFi even more so. We are expanding our supported networks, providing our users with access to more territories in the DeFi landscape - one chain at a time.
Single Token Distribution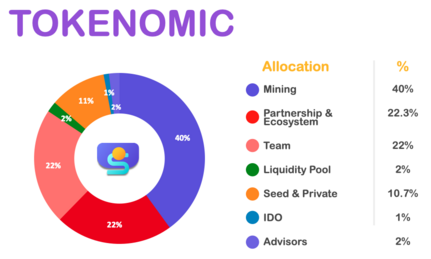 Sources: