Hydra Chain
Jump to navigation
Jump to search
Hydra is an open-source, Layer 1, Proof-of-Stake blockchain with a unique set of economic features, optimized for real-world businesses. It tackles some of the most profound and challenging issues with existing blockchain economies and introduces a truly shared economy with fair treatment to all network participants. It packs a unique combination of inflationary as well as deflationary mechanics as part of its economy that work in parallel and let the real adoption define its total supply.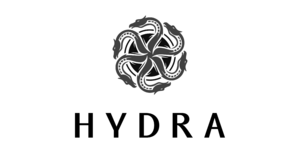 The Hydra Ecosystem
Powerful Staking Economy
Hydra is a POS (Proof of Stake) blockchain. Everyone can become a full node in a few clicks and stake HYDRA to help maintain the network. There is no minimum or Maximum amount of Hydra that you can stake. Stakers receive a high economic stream through block rewards, awarded by the blockchain with a 20% Minimum APR Staking Income. This ensures the chain is always well-protected against "51% attacks".
HYDRA has a unique staking economy which guarantees fixed income to the stakers. Every block yields a pre-defined block reward, which can be adjusted by distributed governance proposals & subsequent on-chain votes. The more HYDRA you stake, the more frequent you will mine blocks. If the number of stakers decreases, then this will immediately increase the staking yield and therefore incentivize the deployment of new nodes by new stakers.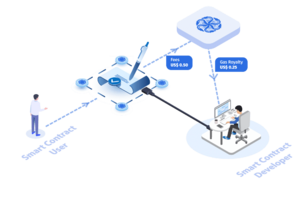 Shared Economy Benefiting all Stakeholders
Hydra provides 50% gas royalties to smart contract owners. Developers/Projects receive 50% of the transaction fees whenever their smart contract is executed by a user. This unlocks a unique economy for DEX applications and DAPPs with high transaction volumes that are currently wasting this enormous economic stream.
Transaction Fees
Fixed Transaction Fees & 100% Burn
The Hydra blockchain achieves transactional cost predictability through a stable gas price protocol. The gas price is governed by coin holders through a decentralized voting mechanism and is always set in fiat. An oracle monitors the price of HYDRA on exchanges and adjusts the fee settings dynamically. The result is a fixed price per transaction in USD equivalent, irrespective of the HYDRA rate, thus giving network participants and real-world business applications the stability they need.
Fixed Coin Transaction Fees of $0.20
Fixed Token Transaction Fees of $0.50
100% Burn of all Transaction Fees
50% Royalty on Gas for Smart Contract Creators
Fixed Transaction Fees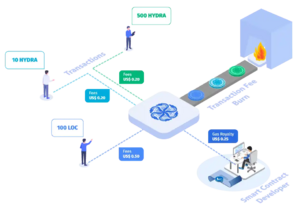 Adaptive Supply, Fixed Fees
High Scalability, Smart Contract Compatibility and Democratic Governance
Through its multiple features, Hydra offers a complete solution for a healthy ecosystem. Its transactional capacity scales dynamically when needed, while a single wallet can execute thousands of transactions in parallel. Chain settings can be voted on by HYDRA holders, thus introducing high flexibility based on democratic principles - and the ability to adapt to changing environments.
Up to 2000 TPS Elastic Capacity (Scalable)
EVM Compatible Smart Contract Platform
Wallet-Level Scalability
Unique Decentralized Governance Protocol
Hydra DEX
Hydra DEX - Hydra DEX is the native decentralized exchange of Hydra chain, where various assets can be traded against each other through the setup of liquidity pools. Yielding trading fees to liquidity providers and Liquidity Mining Rewards. You can bridge over funds from the Ethereum Blockchain onto the Hydra Chain via the Hydra Bridge and you can earn Liquidity Mining rewards with up to 100%+ APY in addition to the regular 0.3% Liquidity Provider Rewards
Liquidity Mining Campaign
A budget of $1.5M is reserved for a 5,000 HYDRA monthly reward pool for each of the pairs below:
HYDRA/DAI
HYDRA/ETH
HYDRA/BTC
Therefore, the campaign consists of a total reward pool at the size of 15,000 HYDRA per month. When measured against the massive DAO fund reserve [1], this translates to just 0.33% of the total fund.
There is no end date to this campaign at the moment and is currently LIVE!
A complete description of the Hydra DEX Campaign is available on this Medium Article
There are guides to bridge over your funds from the Ethereum Blockchain; please see the section "How to swap your funds" in this Medium article.
Hydra Chain is one of only 20 Chains in the world that has an operational Bridge to Ethereum
Projects & Real Businesses Building on Hydra
Hydra Blockchain supports turing-complete smart contract functionality, which allows the execution of decentralized applications on-chain. Tokens and DAPPs building on Hydra profit from gas royalty of transaction fees (passive income).
Every project contributes to the transactional economy, increases the rate at which HYDRA are burnt and grows the overall size of the ecosystem.
Locktrip - LockTrip is a blockchain-based travel marketplace that allows users to save up to 60% on their bookings by cutting out middlemen. Every booking burns LOC proportionally to its booking value, continuously reducing its total supply.
GoMeat - GoMeat is a digital marketplace connecting consumers with specialty (halal & kosher) meat, grocery and restaurants. Providing lucrative discounts and same-day delivery since 2019, GoMeat is empowering local ethnic stores and providing convenience to customers. Enabling blockchain based specialty certifications to bring transparency and traceability to the industry.
ChangeX – ChangeX is a hybrid ecosystem for all your Crypto, DeFi, and Banking needs. Combining compliant CeFi with true DeFi elements, ChangeX streamlines the crypto experience for everyone. Being built on the Hydra Chain, they are introducing Leveraged Staking for 2X APR, Visa Card connected to POS Assets, One Click Crypto to Fiat Trading and Personal IBAN via SEPA.
Evedo - Evedo is a blockchain based platform, consisting of B2B & B2C Marketplaces. It unifies all businesses and participants involved in organizing events.
Stray Pet - STRAY Pet is a crypto-based project aimed to help no-kill shelters around the world by donating funds needed to feed, treat, spay/neuter, and house homeless cats and dogs. Their second goal is to promote the adoption of cats and dogs from shelters instead of buying pets at the stores or from breeders.
RezChain - Rezchain is the hotel distribution industry's first functioning blockchain enabled technology platform allowing companies to share booking data "on the chain" in order to address mismatched information in real time.
The Backstory
Back in 2018, the team behind the project LockTrip (A worldwide travel / Hotel deals aggregator) has published a document labelled "LockTrip Blockchain Manifest" which has become the fundamental design document of the Hydra Chain. The document was based on actual hurdles that Real world businesses are facing and were encountered as part of the development of the LockTrip DaPP; for example TPS, Decentralization, Unpredictable Transaction Fees, Environmental and Economic Sustainability to name a few.
The philosophy behind Hydra is to implement critical economic features while utilizing proven technology for data transmission. Hydra is a permissionless, open-source, proof-of-stake blockchain built on top of open-source projects QTUM, Bitcoin, Ethereum and BlackCoin's PoV v3, designed by Pavel Vasin. Hydra is supercharged with a number of unique economic features and a truly decentralized architecture.
Upcoming Features
Delegated Staking & Superstaking
EVM Upgrade & Block Time Reduction
TPS (Transactions per second) increase
Launch of Secondary Core asset - LYDRA
Single-Sided Liquidity Feature on the HYDRA DEX
Web 3.0 compatibility via Metamask
Industry first Bridge Defenders
Deleveraged Decentralized Earning
StableVault Earning
Decentralized Staking Pools
Social Media Super DAO
NFT Marketplace
Hydra Explorer Redesign
Sources
2. https://hydrachain.org/projects
3. https://hydrachain.org/staking-economy
4. https://github.com/Hydra-Chain/node/raw/hydra/Hydra_Blockchain_Whitepaper_v1.pdf
5. https://medium.com/hydra-chain/hydra-dex-campaign-goes-live-with-500-apy-425fb4c661c3
6. https://docs.google.com/document/d/e/2PACX-1vReUzdGzkc3Plm-VbLv2TGWeJ81dMmraKczCaUVRBDix3s4PROipcJ2aDQ1U_bZruU_OplXVQqCCPbe/pub